9 Nov. 2022
THE LUCKY BOLLINGER CHAMPAGNE CORK! 🍾 🍀
On this Remembrance Day, we want to share with you the sweet story of veteran Allan Colton and his lucky Bollinger Champagne cork!
Born in Poland, then raised in New York, the 22-year-old Colton joined the US ARMY Air Force during World War II. Based in London, it was in a bar in Cambridge that he and his brothers in arms met to celebrate and decompress following their first mission in enemy territory.
The ten or so men, who had their hearts set on celebrating, drank beer, scotch, and cognac until the barkeeper told them that they had drunk all that he had left… except for a bottle of Bollinger Champagne. The commandant ordered the bottle to be brought, popped off the cork, which fell into Mr. Colton's lap. His commander then said to him: « Sergeant Colton, keep this cork, it will bring you luck! » « .

Following this event, Allan kept the lucky cork in his pocket for each of the 33 other missions in which he participated. One day, before leaving for a bombing mission, his commander General Castle, seeing him looking worried, asked him what was wrong. Allan confessed to him that he forgot the cork in his room. The commander ordered the postponement of the mission for ten minutes so that Colton could go and pick it up in his room, where he left it, next to the photo of his girlfriend.
Luck particularly accompanied Allan during a mission where, in mid-flight, he lost the use of one of the engines of his B-17. His plane was left behind and out of formation, as per protocol. Usually, planes left alone and vulnerable are often shot down by the enemy, but Allan was able to make his way safely to a coastal airbase.
Allan kept the Bollinger cork for 20 years and even brought it to Canada, following his marriage to a Canadian. He tells us that he no longer has his lucky Bollinger cap, because he bequeathed it to one of his aunts who was moving out of the country and who asked him for it as a sign of good luck.
Now 102 years old, Mr. Colton, who lives in Montreal, still drinks Bollinger Champagne at celebrations and we can say that his cork has certainly brought him good luck and a long and beautiful life!
Here is a photo we took of him receiving a magnum of Bollinger Special Cuvée, Bollinger cufflinks and a signed letter from the House.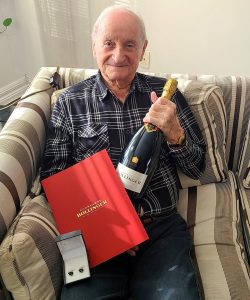 Story told by Catherine Landry, Sommelière Sélections Oeno.
To find Champagne Bollinger  at the SAQ, click HERE.